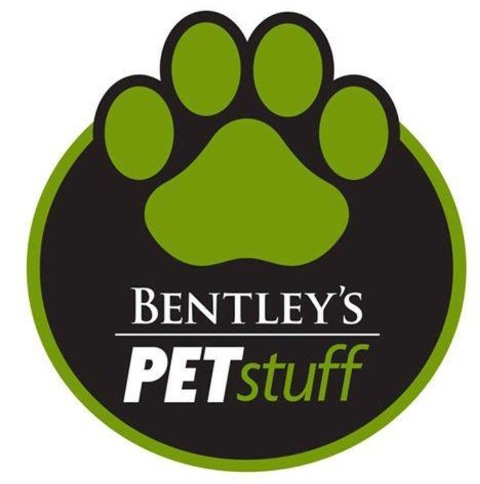 Earlier this summer, I had the privilege of meeting a few of the amazing people at Bentley's Pet Stuff in Overland Park, while coordinating some photo sessions for one of their fun events. They have been some of the nicest people I've met in Kansas City, and I have really enjoyed working with them! So much so, that they are an official partner with Melissa McGee Photography for our Dog & Cat Days of Summer event, so if you've booked a Dog Days photo session, you'll see some love from Bentley's Pet Stuff in your goodie bags!
I was not previously familiar with Bentley's Pet Stuff, so when I arrived at their Overland Park store to check it out, I was thrilled at what I saw!  Bentley's currently has three gorgeous new stores in the KC area (Olathe, Overland Park& Shoal Creek) and another coming soon to Tremont Square in KCMO. They recently received the Retailer of the Year award (2016-2017) from Pet Product News!
As you know, I am a BIG pet and animal advocate. When I walked into Bentley's Pet Stuff I felt like they understood the challenges I'd had trying to find the best food for my pets. I strongly believe that what we eat affects how we feel, and can prevent and sometimes treat health issues that may arise. This is absolutely true for what our pets eat as well, and since they are not able to choose their diets, we must make take responsibility for that choice and do the best we can for them. That can mean research, and not being afraid to ask lots of questions. Once you start looking at what is in standard run-of-the-mill pet food, you can quickly get discouraged by information overwhelm. (Speaking from experience, here!) Their founder describes why she started Bentley's and how they try to make choosing the best food for your pet easier:
"We at Bentley's live by the golden rule of treating others how you wish to be treated. As pet parents, that rule naturally extends to our four-legged friends. One of the most important ways to show them how much we care is by feeding them all natural, nutrient-rich foods.
I believe that what we feed ourselves (and our pets) has a direct impact on our health. In 2008, after losing two precious cats to illness, I took a closer look at what was in the food I was feeding my pets day in and day out. I was shocked. The ingredient lists were filled with items I couldn't pronounce and things I certainly wouldn't eat myself. I knew immediately that I wanted to do something about it.
I wanted to give my dogs and cats a fighting chance for their immune system and overall health. I wanted other pet parents to be aware of all the great options available so they can make an informed and conscious decision about their pet's health. We, as Bentley's Pet Stuff, wanted to create a store fueled by knowledge, where the selection directly reflects the diligent food research done. Customers can walk in assured that any item within our store is a good choice for their pet. We also take the time to train our team members to provide customers with a customized shopping experience because we understand a pet's needs are specific to them, and they deserve to be treated as so.
We truly appreciate your like-minded dedication to your pet's health! This is why we partner with our pet parents to help them find the very best for their furry family members."
Lisa Senafe
Founder and President of Bentley's Pet Stuff
Every product carried by Bentley's is selected and approved by Lisa, so a lot of the research is already done for you, as soon as you walk in the door! That saves me valuable time (I have a 16 month old and run two businesses, for goodness sake!) and helps me do the best I can for my beloved furry family members. Win-win!
Ready to head to the store? Bentley's has their biggest sale of the year coming up September 29- October 1st, their Customer Appreciation Sale. That means up to 60% off food treats, and toys. There will also be door buster deals, raffles, and free dog treats!
Oh, and by the way, if you can't bring your pet along to the store with you, at least bring a photo of them, because you will not believe how awesome the store associates are. They really love talking with you about your pets, and seeing your cute pet photos! It warms my heart just to visit them!
Thanks Bentley's, for doing right by pets and their people!
To book your Dog & Cat Days of Summer photo session, click here!
SaveSave
SaveSave
SaveSave
SaveSave
SaveSave