So, your phone is full of apps. But do you have any apps for your dog? Bark Happy is for both of you!
Bark Happy lets you explore dog-friendly places and events, and connect with dog-owners near you! They even have Lost & Found alerts and deals right in the app. Want to know if the patio of that new restaurant downtown is dog-friendly? Check out the Bark Happy app. You can even just browse the map for your location to see what IS dog-friendly. How handy!
Bark Happy KC events are always fun, super creative, and are usually loaded with goodies for you and your pet. A portion of the proceeds always goes to a local pet charity or shelter, too!
For example, their upcoming Doggy Homecoming event on September 24th from 6-8pm. (Seriously, a Doggy Homecoming? How cute is that!) A portion of the proceeds will go to KC Pet Project. (Full disclosure: Melissa McGee Photography will be there taking photos.)
The Doggy Homecoming event will take place in the Hayloft Event Space at the gorgeous new craft distillery, Lifted Spirits, in the east Crossroads. You NEED to go see this space, it is gorgeous! I had the pleasure of stopping by this past Saturday, and I just swooned.
A ticket to Bark Happy's Doggy Homecoming is $15 and is packed with goodies; check out this list:
– FREE Dog Treats from BeCheeky Chic
– FREE Tennis Ball from U-Wash Puppy
– FREE Dog Treats from Beer Paws
– FREE Dog Treats from PupCakery
– FREE Dog Toys from Optimist Club
– FREE Doggy Homecoming Pin Back Buttons from Simply Kitts Illustrations – FREE Coupon for $5 off Bath or 15% off Retail with BarkBayKC
– FREE Treat Samples from Pet Wants
– FREE Professional Photo Sessions (photos available for purchase with Melissa McGee Photography)
– 20% off Discount to Simply Unique Designs
– FUN Dog-Themed Cocktails available for purchase at Lifted Spirits
– FUN Dog Crowning for Homecoming King and Queen
– EXCITING Raffle Prize!
It doesn't end there…Doggy Homecoming will be at the gorgeous new craft distillery, Lifted Spirits, in the Crossroads. Swoon!
HEADS UP: BarkHappy App users get 10% off their ticket price by using the promo code found inside the BarkHappy
app! Look in the events section and find the Doggy Homecoming event. The promo code details are listed at the bottom.
Get tickets now: https://KCDogHomecoming.eventbrite.com/
This is a 21+ event, tickets are advance purchase only, and are limited in number, so don't wait!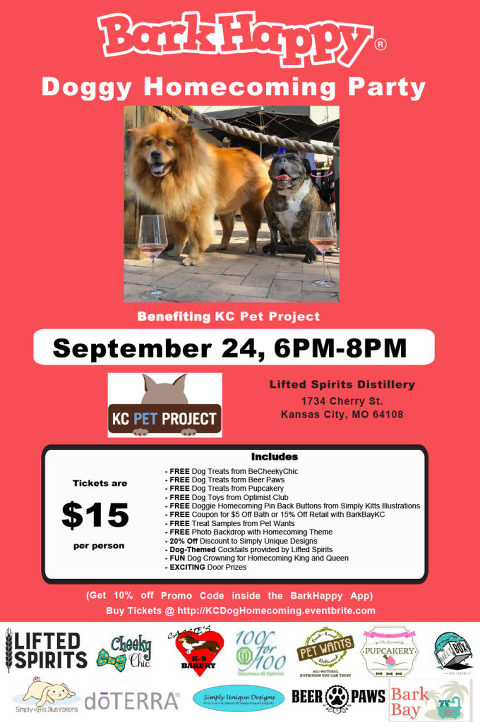 SaveSave