Ningxia Red Dreamsicles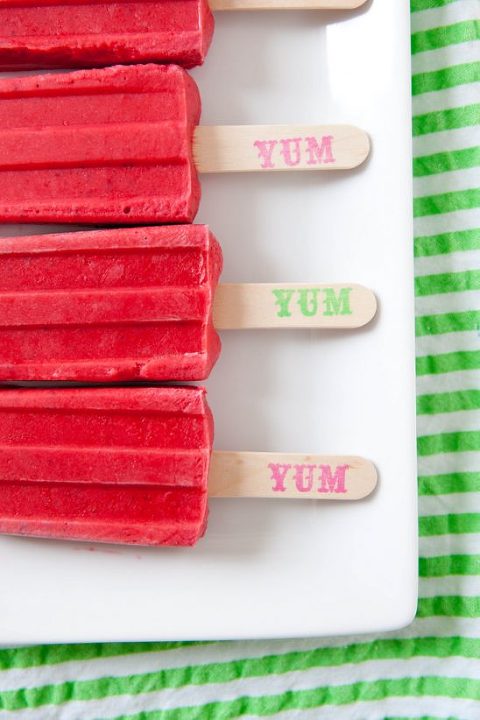 It's not ALL about photography here on the MMP blog. One of our tagline words is Fun, and we like to have fun outside of the photography world also.
So, today's post is about combining two things I love for a fun & healthy treat. Young Living Essential Oils, and Popsicles.
I use Young Living Essential Oils for all sorts of things, but that's a whole 'nother post. (That could be a whole 'nother blog, actually.)
My favorite things about them:
• they really work (obviously, my favorite reason!)
• they are drug-free
• they are therapeutic-grade (what does that mean? click here to find out.)

Earlier this year, Young Living introduced their Vitality Line of oils, which are intended for dietary supplement and culinary use. We will be using three oils from that line today, and of course…NingXia Red! (If you aren't familiar with the incredible Ningxia Red, find out more about it here.)

Recipe:
Makes 4 popsicles.
Ingredients

:

½ c water
1 c Ningxia Red
1 drop Orange Vitality essential oil
1 drop Tangerine Vitality essential oil
1 drop Lemon Vitality essential oil

Method:
Combine all ingredients, and divide equally between four popsicle molds. (Leave a little bit of room at the top, because the mixture will expand while freezing.) Place your sticks in and the lid on your popsicle mold, if applicable. Freeze until frozen through, or overnight, if you can wait that long!

There are a couple variations on the recipe you can try, as well!
For a more basic pop, you can use just the Orange Vitality oil instead of the mix of Orange, Tangerine, and Lemon oils.
If you want a little more "punch" in your pop, substitute Lime Vitality, Peppermint Vitality and Cinnamon Bark Vitality essential oils for the the Orange, Tangerine, and Lemon Vitality oils. Whew! That should cool you off on a hot day!

There is not one speck of anything unhealthy in these popsicles, so kick back, have fun, and enjoy this healthy, natural, and refreshing treat-no guilt allowed!
Did you try this recipe? Which variation? What is your favorite popsicle mold? (I am always on the hunt for the best popsicle mold, as I use them like crazy during the summer!) Let us know in the comments!